Student Organizations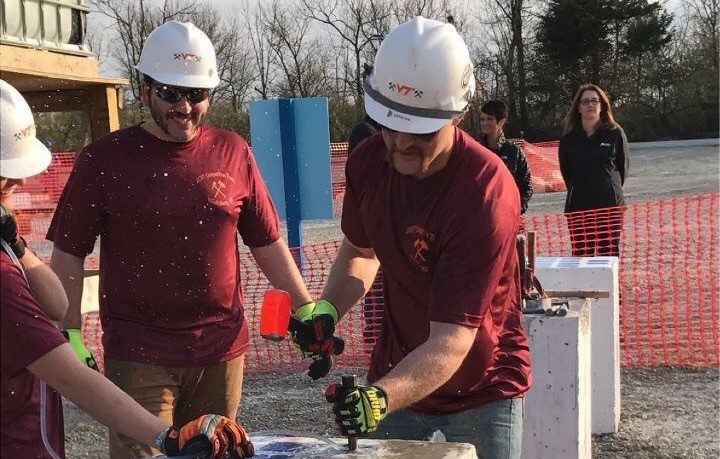 Between classes, labs, and homework, Virginia Tech mining engineering students are a pretty busy group. Yet our students continue to be some of the most active on campus thanks to many competitive and industry-related organizations that give our undergraduates the chance to develop leadership and team-building skills as well as network for their future careers--while simply having fun!
Burkhart Mining Society
Burkhart is the student chapter of the Society for Mining, Metallurgy & Exploration (SME). It strives to prepare young, well-rounded mining engineers for the mining profession by increasing each member's knowledge of the industry, gaining professional relationships, and developing leadership skills. Each year, Burkhart sends several student members and a design team to the SME annual convention. These in-person networking opportunities are invaluable to its members.

Bevlee Watford Society
The goal of BWS is to promote both diversity and inclusion in engineering through professional development in the mining industry and through educational outreach to prospective students and the surrounding community. Throughout the year the society plans field trips to local mines, strengthens inter-department relations, and provides leadership and representation for recruiting students to the program.
International Society of Explosive Engineers Student Chapter
ISEE is the student chapter of the International Society of Explosives Engineers whose mission is to promote the safety, security, and knowledge of the controlled use of explosives in the mining industry. Each year, the organization sends a group of student members to the ISEE's annual conference. In addition, the chapter  organizes trips to local mines to observe blasts, and sets up a lecture series on explosives-related topics given by industry professionals.
Bryan Smith Aggregates Society
This is the student chapter of the the National Stone, Sand and Gravel Association (NSSGA) and has seen an increase in activity and membership as graduates continue to join the construction and aggregates industries. The Bryan Smith Aggregates Society is dedicated to professional development, technical knowledge and the inustry networking for its members, who have the opportunity to attend the NSSGA's annual AGG1 Academy and Expo.
ARMA is the professional and international engineering and scientific society that promotes interaction among rock mechanics and geomechanics specialists, practitioners, and academics. In keeping with ARMA's principle that "a strong student membership ensures future continuity," the ARMA Student Chapter at Virginia Tech was created to expose Virginia Tech students to state of art rock engineering and to promote the development of knowledge within the field through research dissemination, presentations, meetings, publications (ARMA E-News) and topical symposia.
Mine Rescue Team
Virginia Tech's Mine Rescue team practices and competes in collegiate-level mine-rescue problem-solving events modeled on industry teams. The Mine Rescue team is unique in that it requires strong hands-on skills with the ability to solve complex technical problems in a team-based, think-on-your-feet, challenging environment. The team conducts regular training and travels each semester to compete against other collegiate teams.
Mining Competition Team
The Mining Competition, or "Mucking," Team competes internationally in mining games that challenge students on their practical mining knowledge and physical abilities. The events are hands-on, requiring brawn as well as brain, as students compete against colleges from around the world in events based on old-fashioned mining methods. The competitions also offer its members a chance to meet recruiters in from the mining industry in a more casual setting and improve networking skills.